iC Innovation in Concrete
TYPE
OBJECT

PROJECTS
NEST HILO FLOOR
PREVAULT
NEST HILO ROOF PROTOTYPE
TAILORED FORM
EARTH CASTING RESEARCH

COLLABORATORS
DR PHILIPPE BLOCK
BLOCK RESEARCH GROUP
ETH ZURICH
-
NIELS MARTIN-LARSEN
OLE EGHOLM JACKSON
AARHUS SCHOOL OF ARCHITECTURE
-
JON KRAHLING
AARHUS SCHOOL OF ARCHITECTURE
-
ARCADIA LANDSCAPE ARCHITECTURE

Innovation in Concrete
New Material Practices and Technologies
Concrete is the most consumed materially globally. Its efficient use is enabled or limited by the design and material systems used for reinforcement, shuttering, formwork and scaffolding.
We pursue design outcomes that challenge conventions through the invention of new material practices, processes and technologies. Our research-led approach can make a significant difference to questions of buildability and sustainability when addressing the use of concrete in construction. Concrete is the most consumed material globally, however, it is highly problematic from a sustainability perspective. Concrete buildings are typically built three times: once in timber (i.e. formearok), once in steel (i.e. reinforcement) and finally in concrete. Each individual act possesses its own significant inefficiencies while collectively they result in needless construction waste and greenhouse emissions that could be designed out.

Through our work, we offer examples that seek considerable reductions in the embodied carbon of concrete, formwork and reinforcement via:
> Reusable and recyclable fabric formwork strategies, notably in conjunction with supporting cable-net systems to give rise to compelling form-active structures.
> Circular material strategies for formwork that address construction waste through a closed-loop approach.
> Earth-mounding as a formwork strategy.
> Robotic 3D-print-reinforced fabric shuttering.



Folded PETg Formwork
The formwork for the PreVault project was made from 1mm lasercut and folded PETg a material can be recycled indefinitiely. The low cost production method enables each element to be unique in turn enabling the pavilion to follow optimised [funicular] structural form.


Cablenet and Fabric Shuttering
The NEST HiLo Roof Prtotype — completed in collaboration with the Block Research Group, ETH Zurich, — uses a cablenet, fabric shuttering, carbon- fibre reinforcement and computational optimisation to realise a self-supporting concrete shell roof that is on average just 50mm thick.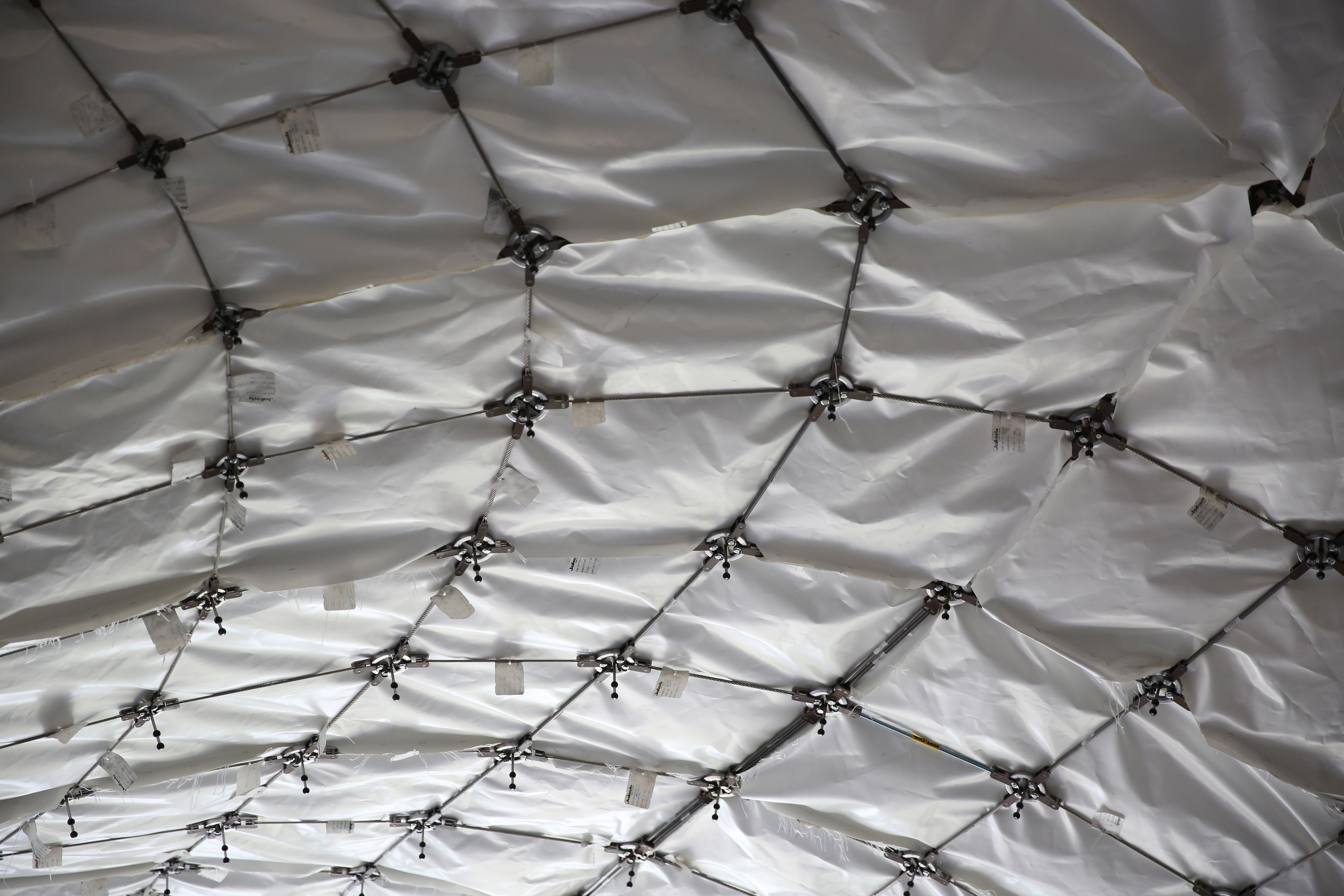 Robotic 3D-Print Reinforced Fabric Shuttering
Fabric shuttering offers a low-cost and formally compelling material strategy for the ptoduction of doubly-curved concrtete. The addition of robotically applied 3d-printed tailoring allows for greater control and an expanded range of character.


Earth Casting
An extremly low-embodied-energy means to achieve good structural form earth casting also provides colour and texture that is uniquely connected to place.
---
---
Architecture + Innovation
Public Space Strategy
Transport Design Technology
Workplace Construction Innovation
Residential Robotic Fabrication

---
Eora / Sydney —
Gadi Country
1503D/780 Bourke St, Redfern, NSW, 2016
+61 [0] 422 84 0099
sydney@supermanoeuvre.com

---
Ngambri / Canberra —
Ngunnawal Country

+61 [0] 450 705 537
canberra@supermanoeuvre.com