pC Periscope Canopy
TYPE
PUBLIC SPACE, URBAN, LANDSCAPE
LOCATION
LANE COVE, SYDNEY, AU
CLIENT
LANE COVE COUNCIL
DATE
2020
WITH
SCOTT CARVER ARCHITECTS
ADCO CONSTRUCTIONS
TTW ENGINEERS
TEAM
DAVE PIGRAM
IAIN MAXWELL
BENNETT SCORCIA
RAINY HUANG
IMAGES
HAMISH McINTOSH
DAVE PIGRAM
AWARDS
INTERNATIONAL WINNER
GOOD DESIGN AWARD WINNER
ARCHITECTURE DESIGN
PLACE DESIGN
-
INTERNATIONAL WINNER
ARCHITIZER A+ AWARDS
JURIED AWARD
ARCHITECTURE +CEILINGS CATEGORY
-
INTERNATIONAL WINNER
ARCHITIZER A+ AWARDS
POPULAR CHOICE AWARD
ARCHITECTURE +CEILINGS CATEGORY
-
NATIONAL WINNER
NATIONAL URBAN DESIGN AWARDS
BUILT PROJECTS
LOCAL AND NEIGHBOURHOOD SCALE
-
NATIONAL 2ND PRIZE
[HIGHLY COMMENDED]
SUSTAINABILITY AWARDS
URBAN AND LANDSCAPE
-
STATE WINNER
AILA NSW LANDSCAPE ARCHITECTURE AWARD FOR CIVIC LANDSCAPE
WINNER
-
STATE WINNER
GREATER SYDNEY COMMISSION'S AWARD
DEVELOPMENT SUPPORTED BY INFRASTRUCTURE
Periscope Canopy
Lane Cove, Sydney, NSW, Au
Sinuous curvature and mirrored shingles allow the canopy to act as a 'periscope' visually connecting the activity above and below the new public park.



Periscope Canopy, won via an invited design competition, provides an iconic entrance experience to a new public park and restaurant destination for Sydney's Lane Cove. The canopy's sinuous curvature and polished aluminium shingled underside allow it to act as a 'periscope' visually connecting the activity above and below the park. The project was delivered in partnership with Scott Carver Architects and ADCO Constructions.



View while Ascending
The mirror-shingle-clad underside of the canopy visually connects the life above to the life below the new park level.
Two large ETFE cushions shelter and provide light to the spaces below.
This material is far lighter than glass and can twist to follow the strong curvature of the canopy with simple and economical detailing.
More Green
The canopy's reflective underside twists and tilts in order to maximise reflections of vegetation.
Laneway View (Left)
Everyday life reflected.




More Lane Cove (Right)
With each visitor potentially reflected multiple times,the public spaces are always animated.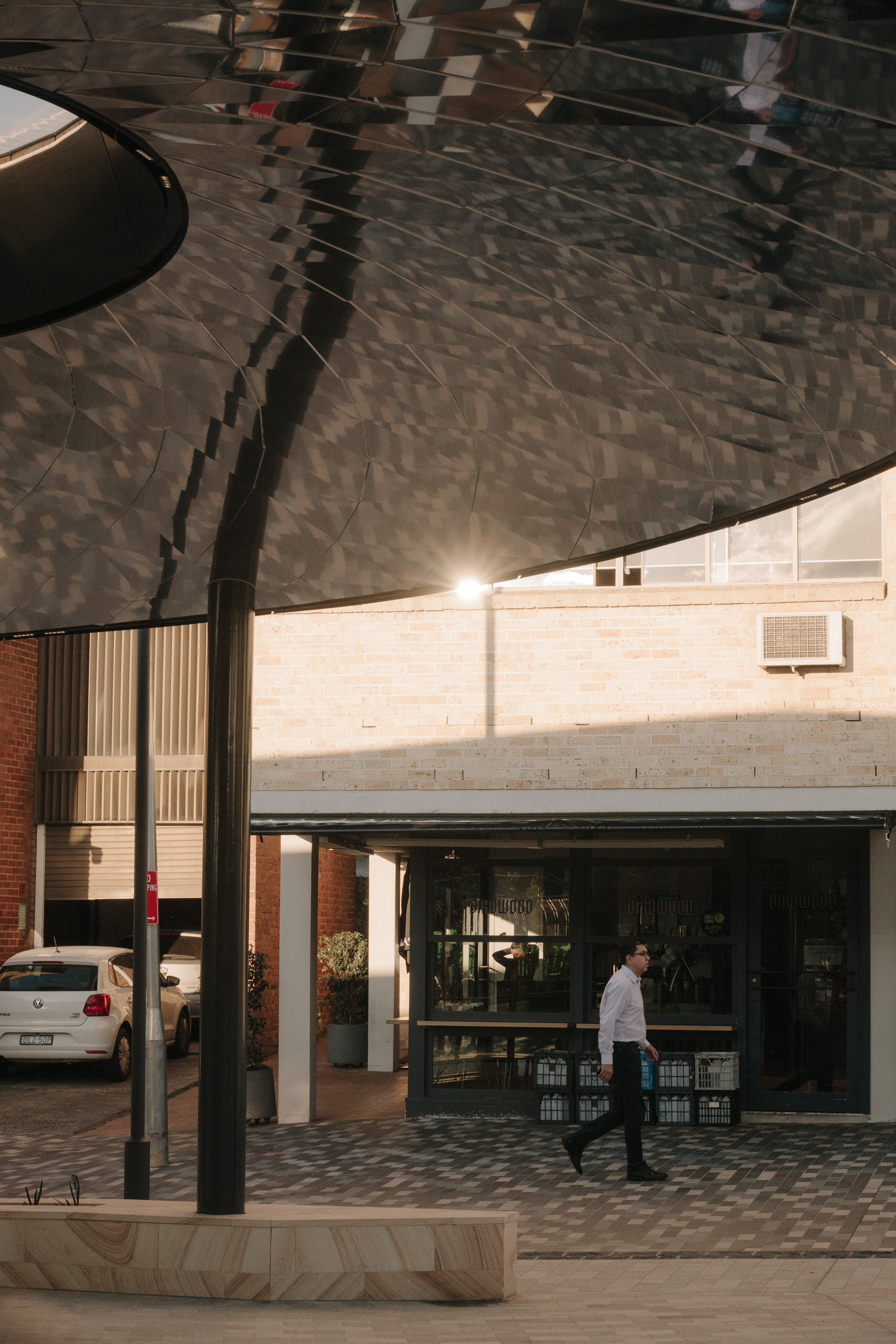 Illuminated
Pools of light on the ground below provide indirect illumination of the canopy that floats above.
Subterranean Perspectives
Views from the retail level below.
Construction
The geometry of the canopy is pre-rationalised to work with the constraints of the materials and trades used in its realisation. The over 2000 shingles consist of only 21 sizes each strategically deployed in rows so as to ensure efficient installation.
Site Specific
The sinuous curves of the canopy allow it to twist, turn and reorient in order to act as a gateway and to provide shelter, reflections, and directional views as required.
Shingle Detail
The polished aluminium shingles are folded in the middle and along their edges splitting the reflections into literally thousands of pieces.
Like a faceted diamond the surface catches light from all directions.
ETFE (Left)
Two large inflated ETFE cushions span the spaces between the canopy's curves to provide continuous shelter. ETFE is a flexible, lightweight replacement for glass. In an Australian first, the pillows are continuous, resting on the structural beams below. This move, and the use of ETFE in the first place, produces an integraetd and minimal result while saving considerable cost.
View to Green
Views to, and reflections of, the new public park and new green wall welcome the public as they arrive to 'The Canopy' precinct from above or below ground.