Yi 'YIMBY': Yes In My (Our) Backyard
TYPE
PAVILION

LOCATION
GROLLO EQUISET GARDEN,
NATIONAL GALLERY OF VICTORIA,
MELBOURNE, AUSTRALIA

CLIENT
NATIONAL GALLERY OF VICTORIA

DATE
2022
TEAM
IAIN MAXWELL
DAVE PIGRAM

RENDER
DOUG&WOLF
AWARDS
ONE OF TEN ARCHITECTS INVITED
TO PARTICIPATE IN THE 2022 NGV
ARCHITECTURE COMMISSION COMPETITION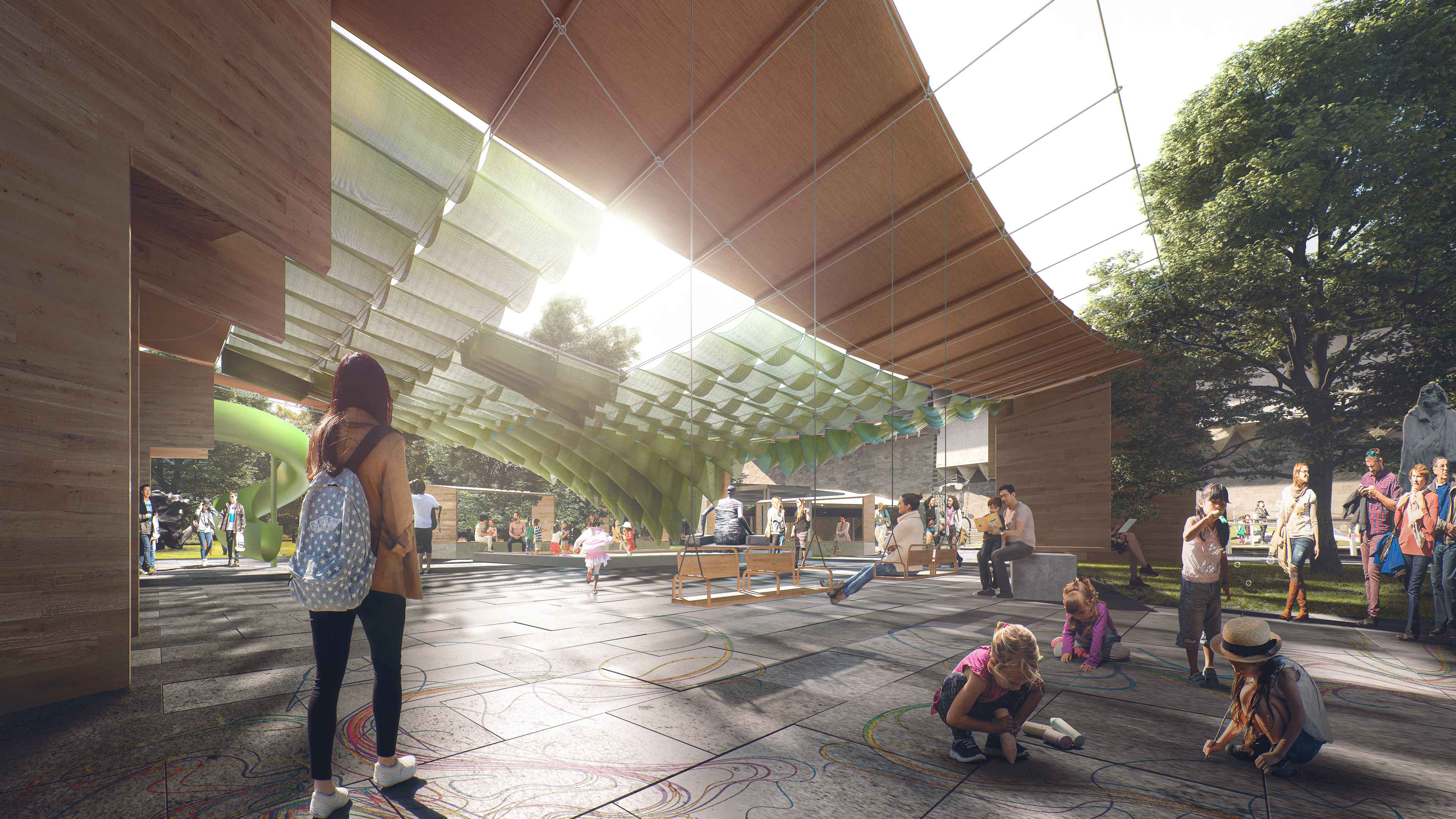 'YIMBY': Yes In My [Our] Backyard
National Gallery of Victoria, Melbourne, Australia
YIMBY celebrates the possibility of building active and positive collective urban memories through the realisation of a 'shared' backyard.


THE SOCIAL ROLE OF THE BACKYARD
Few spaces capture the aspirations and psyche of the so-called Australian way-of-life more than the backyard. The mere mention of the word evokes strong memories and an overwhelming sense of nostalgia triggering flashbacks of childhood, family, friends, neighbours, festivity and play. As idiosyncratic as their owners, our backyards reflect who we are.

As metropolitan Australia explodes, not only are our neighbourhoods becoming denser but increasingly exclusionary, isolating and expensive. For many, the 'backyard' is a distant memory and unattainable dream. The National Gallery of Victoria is an unusual institution in many great ways, not least because it possesses its own backyard complete with lawn, pergolas, garden beds and perhaps most quintessentially: a (back) fence. Appropriately, it has more sculptures than most but most significantly, it is publicly owned. It is OUR backyard!

YIMBY celebrates the possibility of building active and positive collective urban memories through the realisation of a 'shared' backyard. In offering everyday elements synonymous with the traditional backyard -- greenery, bbq, picnic tables, cabanas, hammocks and play -- we invite visitors who may or may not have access to their own backyard to share in the cooperative use and definition of this one. We encourage debate related to the increased provision of higher quality and higher performing public spaces that can fulfil the important social, cultural and recreational functions backyards have for so long played in the imagination of suburbia.

Come to YIMBY, relax with a book, let the kids play, cook some (meat free?) snags with mates, or simply enjoy the NGV collection on your smart device whilst chilling in your very own backyard!

THE ENVIRONMENTAL ROLE OF THE BACKYARD
Along the way something went wrong with our neighbourhoods and it has to do with our backyards. In pursuing greater lot subdivisions without adequate mandates on landscape spaces, we administratively eliminated the critical, oft overlooked and almost magic-like contribution backyards have made to our built environment: cooling. At first we didn't notice, however in the face of climate change, we have come to realise that contemporary suburbia is increasingly inhospitable.

YIMBY not only promotes the collective social opportunity of a shared-urban-backyard, but its environmental-responsibility too. It demonstrates a resilient and adaptive architectural response to the effects of the urban heat island by integrating a participatory and beautiful shading system consisting of variably slung operable fabric drapes. Visitors and program curators alike can tune shade within the pavilion to suit the changing conditions that in turn animates the pavilion.

FORM AND STRUCTURE
Reimagining our relationship to the outdoors continues to stimulate innovation in Australian architecture. We draw on two memorable Melbourne references — each reimagining the backyard — that have long inspired our practice: the arrangement and sequence of Roy Grounds' Courtyard House (1950) and the technical methods of Robin Boyd's Walsh Street House (1958). We propose a highly efficient, tension-active cablenet structure anchored by axially-aligned bladewalls that formalise an internal square bounded by program. The bladewalls are paired and act as functional ballast eliminating in-ground footings. The cablenet supports a diaphragm roof constructed from compressed straw roof shingles: Durra Panel. This expressive yet rational design harnesses CNC prefabrication and tension-active forms that exhibit zero-bending. The result is a highly efficient — seemingly impossibly lightweight — structure that negotiates material forces in beautiful and magically ground-liberating ways.

MATERIALITY
As a material praxis, a fundamental concern of architecture must be the creative excitation of built forms that draw responsibly and ethically upon natural resources. Temporary architectural pavilions offer critical moments to reassess our standards of practice and via experimentation, explore new material and construction paradigms. YIMBY celebrates the spatial, technical and aesthetic potentials of emergent sustainable material streams in concert with advanced fabrication strategies. It demonstrates an extremely efficient, lightweight, low-emissions and low-waste approach to construction. All key material choices have been made against cradle-to-cradle criteria resulting in the specification of low-lifecycle emission materials that are: 100% recyclable (steel & shadecloth); renewable (CLT) or compostable (compressed straw panels). Additionally, we believe that sustainability, like politics, is highly local. Responding, our design incorporates only materials sourced from Victorian industry and supply chains. A strategy that not only enhances opportunity for sponsorship but critically promotes sustainable Victorian businesses and technologies.

REUSE
Although highly-site-specific, YIMBY's column-free zero footing design is well suited to disassembly and reuse. It would make a perfect Covered Outdoor Learning Area [COLA] for an underserved community for example.


Axonometric Diagram
Proposal


Section
Through proposal at entry bridge


Site Plan
Proposal within the NGV Grollo Gardens


Drapes
Henry Moore's bronze sculpture 'Draped Seated Woman', 1958
Intergated within the pavilion and new garden.
The project's use of draped shade-cloth is reminiscent of both semi-enclosed pergolas and washing drying on a clothesline.
Visitors can enage with the elements to increase thier own comfort in keeping with the idea that this is a publically owned backyard for collective enjoyment.